African Wilderness Unveiled, Nasikia Camps' Safari Spectacle
Embark on an extraordinary journey with Nasikia Camps as we unveil our exclusive running offers that beckon you to the untamed beauty of Africa. Nestled within the rugged embrace of Tarangire National Park, Tarangire Ndovu Tented Lodge invites you to witness the majesty of elephants and find solace under ancient baobab trees. Here, with Nasikia Camps, the wilderness becomes your home, and nature's wonders unfold just beyond your doorstep.
Discover tranquility at Mandhari Lodge, a hidden sanctuary in the heart of the African wilderness. Picture yourself waking up to the symphony of nature, as the sun bathes the landscape in golden hues. Nasikia Camps presents an oasis where luxury and nature seamlessly intertwine, offering you a retreat like no other.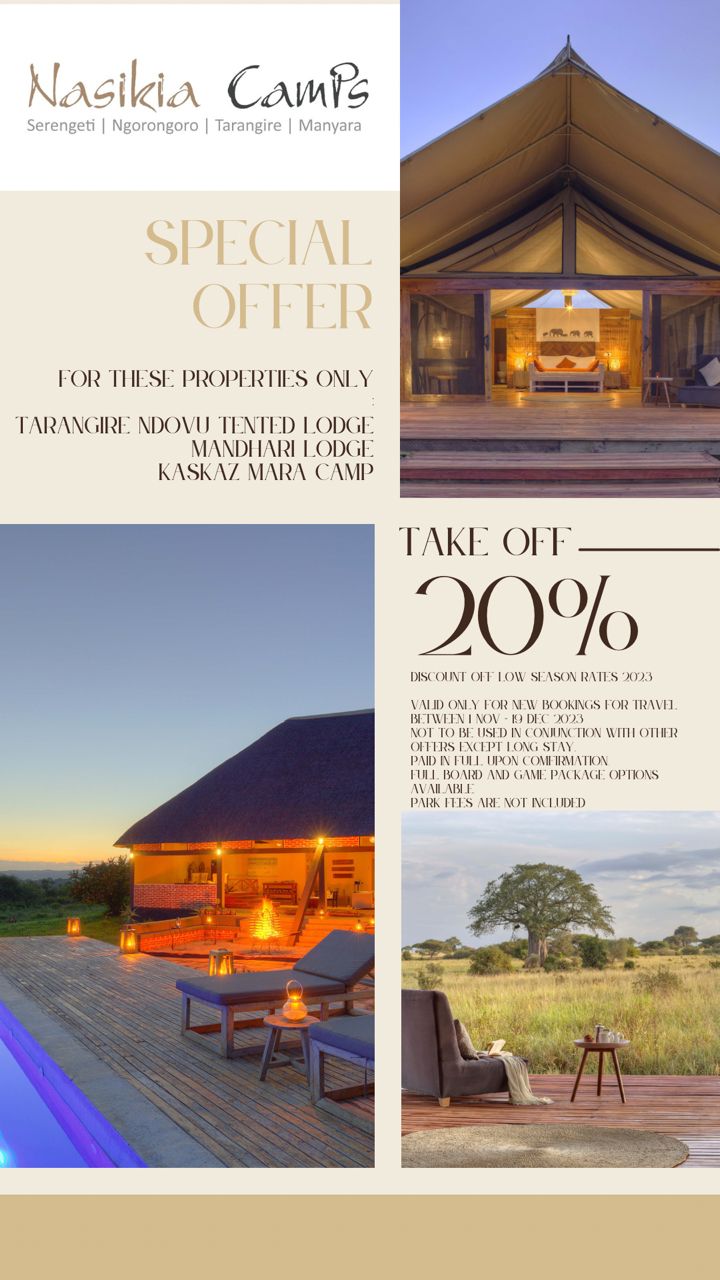 For those seeking the extraordinary, Kazkaz Mara Camp in the Maasai Mara is a spectacle of wonder. November brings the mesmerizing wildebeest migration, a soul-stirring event best experienced from the comfort of your camp. Immerse yourself in the drama of the wild while indulging in luxury, creating memories that will last a lifetime.
As November's crisp winds usher in a new season, seize the opportunity to immerse yourself in the untamed splendour of Africa. With Nasikia Camps' extraordinary offers at Tarangire Ndovu Tented Lodge, Mandhari Lodge, and Kazkaz Mara Camp, your wild adventure awaits, now more enticing than ever. Embrace the call of the wild and let Nasikia Camps be your guide to a safari experience that transcends imagination.
RESERVATIONS: OFFICE
Email:
info@nasikiatanzania.com
Follow us