Wine Enthusiasts Rejoice, Sarova Woodlands' Wine Of The Month
Prepare your taste buds for an exquisite journey through the world of wines at Sarova Woodlands. The Wine of The Month offers are back, and this time, they bring you a captivating selection of South African wines that will elevate your dining experience to a whole new level. As a special treat, Sarova Woodlands is offering an exclusive 15% discount on these exceptional South African wines.
 For those who appreciate the charm of a dry white wine, the Wolf Trap Chenin Blanc is a delight for the senses. This wine presents a harmonious fusion of fruity and floral notes, featuring hints of apple and citrus. With its well-balanced profile, it's the perfect choice for those who prefer a lighter, more easy-going wine experience.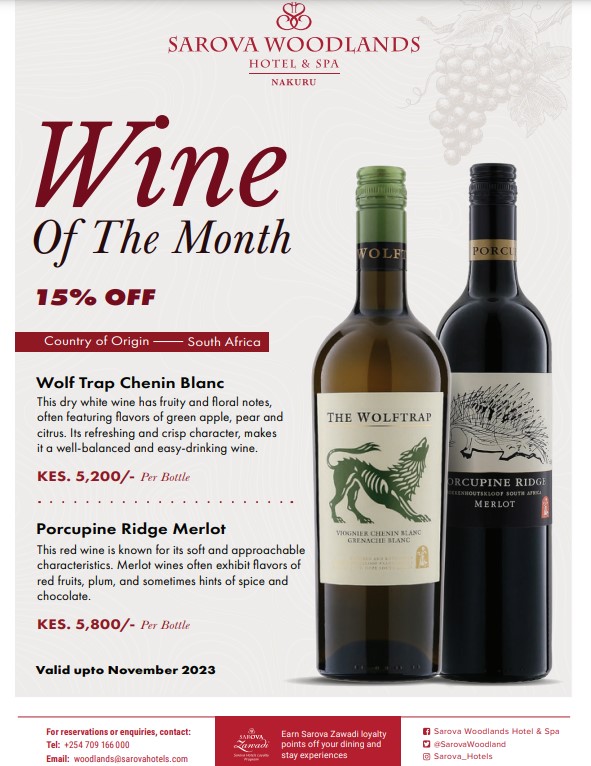 If your heart belongs to red wines, the Porcupine Ridge Merlot will be a revelation. It boasts a complex flavor profile with notes of red fruit, plum, and a touch of chocolate. The result is a truly indulgent experience that will leave your senses dancing with delight.
 At Sarova Woodlands, they understand that a great meal is enhanced by a perfect wine pairing. These South African wines have been thoughtfully selected to complement the culinary creations prepared by their skilled chefs. It's a culinary symphony that will leave you craving for more. Elevate your dining experience, and let the art of wine take you on a captivating journey at Sarova Woodlands.
For reservations or enquiries, contact:
Email: woodlands@sarovahotels.com
CLICK HERE TO VIEW OUR WEBSITE
To find out more about Sarova Hotel Offers