Nasikia Tanzania Unveils Exclusive 20% Discounts On Luxury Retreats
Embark on a journey of unparalleled luxury and adventure with Nasikia Tanzania's exclusive discounts at three of their breathtaking properties—Tarangire Ndovu Tented Lodge, Mandhari Lodge, and Kazkaz Mara Camp. Until December 19, 2023, indulge in a remarkable 20% discount on your stay at these enchanting retreats, where the wild meets sophistication.
Immerse yourself in the untamed beauty of Tarangire Ndovu Tented Lodge, nestled within the rugged embrace of Tarangire National Park. Witness the majestic elephants and find solace under ancient baobab trees as you experience the true essence of the African wilderness.
For those seeking tranquility, Mandhari Lodge beckons—a hidden sanctuary in the heart of the wilderness. Unwind in the lap of luxury and reconnect with nature in this serene haven.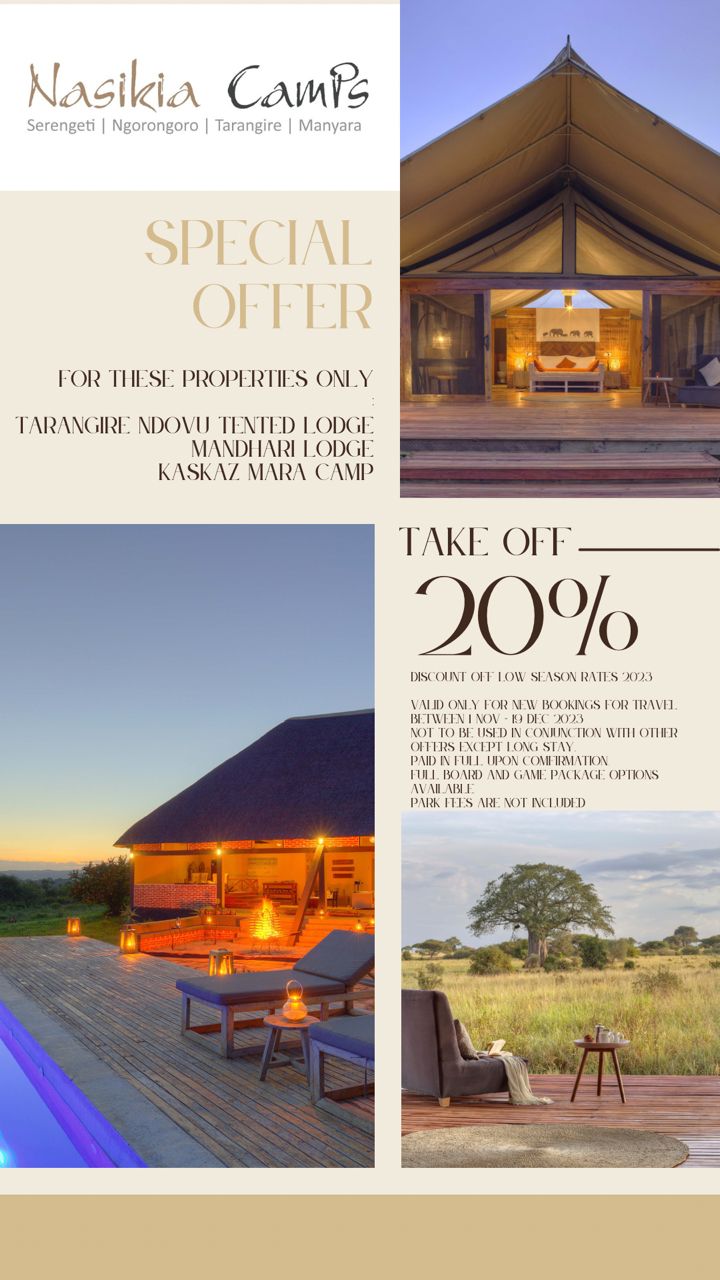 Meanwhile, at Kazkaz Mara Camp in the Maasai Mara, November unveils the awe-inspiring wildebeest migration—a spectacle that will leave you breathless. Enjoy this soul-stirring event from the comfort of your camp, where luxury seamlessly blends with the wonders of the natural world.
Choose from full board and game package options to tailor your experience. Don't miss out on this extraordinary opportunity to embrace the beauty of Tanzania at a fraction of the cost. Book now and let Nasikia Tanzania transform your safari dreams into reality.
RESERVATIONS: OFFICE
Email:
info@nasikiatanzania.com
Follow us