Ethiopian Airlines Invites You To Experience Effortless Travel With Mobile App
Step into a new era of travel ease with Ethiopian Airlines, where the future meets convenience through seamless online booking and check-in. Elevate your travel experience by downloading the Ethiopian Mobile App, granting you access to a digital realm that transforms the way you navigate your journey.
Bid farewell to the stress of airport rush and last-minute challenges – with online check-in, you take command of your travel plans 72 to 2 hours before your flight.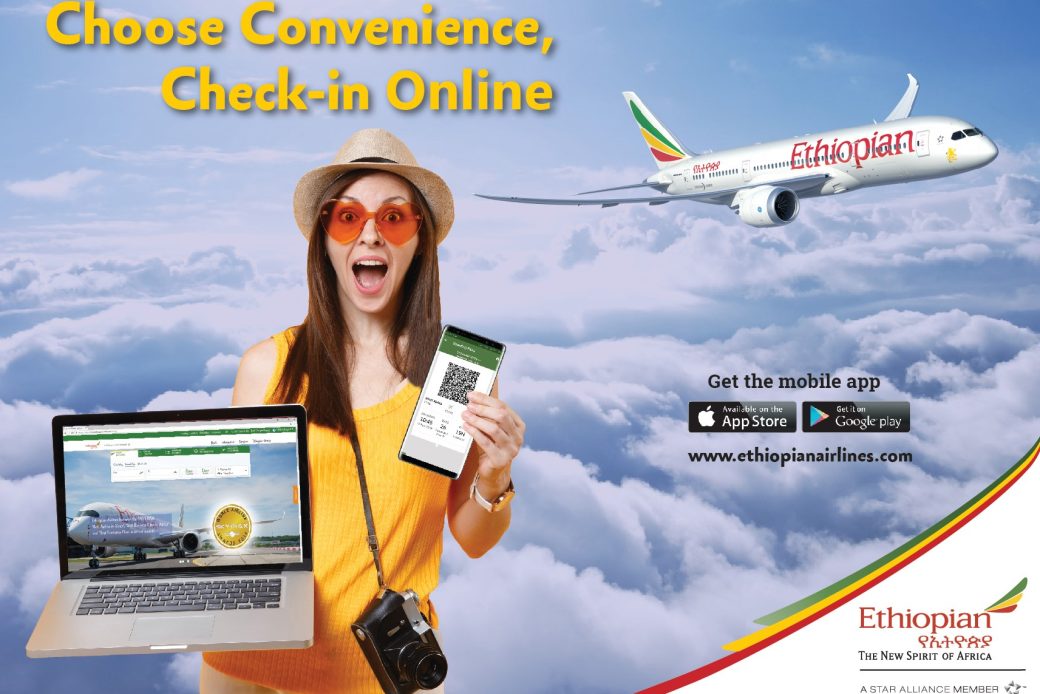 Enjoy the liberty to select your preferred seat, and effortlessly navigate the airport with a printed boarding pass, all achieved from the comfort of your home or office. As a cherry on top, relish a special discount on designated routes, ensuring your journey is not only smooth but also budget-friendly.
Embrace the digital age, simplify your travel, and immerse yourself in a more serene airport experience with Ethiopian Airlines. The future of travel is here – seize the opportunity to book and check in online, marking the beginning of your journey with unparalleled simplicity.
Book, Pay, and Check In
USING YOUR MOBILE PHONE
Download our Mobile App
Ethiopian Airlines (Ethiopian) is the flag carrier of Ethiopia. During the past seventy-plus years, Ethiopia has become one of the continent's leading carriers, unrivaled in Africa for efficiency and operational success, turning profits for almost all the years of its existence. Operating at the forefront of technology, the airline has also become one of Ethiopia's major industries and a veritable institution in Africa. It commands a lion's share of the pan-African network including the daily and double daily east-west flight across the continent. Ethiopian currently serves 100 international and 21 domestic destinations operating the newest and youngest fleet.
ShebaMiles is Ethiopian's Frequent Flyer Program. As a member of ShebaMiles, members accumulate miles that will entitle them to award tickets, award upgrades, access to executive lounges, additional free baggage allowance, and many other privileges. The more they fly the higher the benefits. Since December 2011, ShebaMiles has had a frequent flyer program partnership agreement with over 28 airlines including all the Star Alliance member airlines and over 80 non-airline partners (hotels, restaurants, shopping centers, etc) where members have the privilege to earn miles whenever they use the services of these partners. To find more please go to ShebaMiles.